Published: 03 Jan 2019 | Author: James Beresford
We are excited to announce the publication of our first PowerBI Partner Showcase! The Government Contract Analysis Tool is a demonstration of our ability to deliver powerful data visualisation solutions. It's a great piece of work by our team and a big recognition of their capability.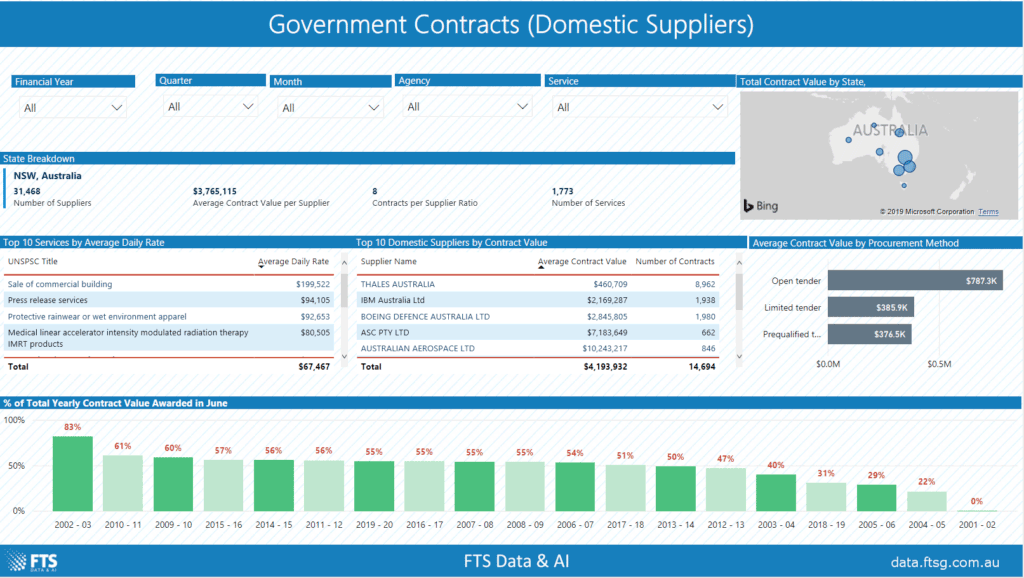 Based on Open Data this PowerBI Partner Showcase demonstrates our ability to visualise data to provide insight on Federal Government Spending patterns – check it out on the official PowerBI site. It's interesting to see how many contracts are awarded in June. This is visible in the bottom chart of the first page. In 2002 a whopping 83% of contract were awarded in June. Surprisingly, not an election year.
The Government Contract Analysis Tool
So what purpose does it serve? Government contracting is a vast industry worth billions of dollars with thousands of contracts awarded every year. Such large data presents difficulties in offering useful analysis, resulting in the commercial trends going unnoticed.
Typical questions are:
Who are my major competitors for this service?
What procurement method should I tender with?
When is the best time to tender for work?
Where are the most contracts being awarded within Australia?
How long will I need to commit for a contract with this agency?
What growth has there been for contract values across agencies over time?
How much should I tender for?
To remain competitive and drive revenue growth, decision makers need accurate and real-time answers to the above questions. Unfortunately, direct and constructive analysis is difficult with the vast quantity and low quality of the data provided.
FTS Data & AI took the raw data and crafted an effective analysis tool that provides answers to the critical questions that decision makers demand.
Users can now:
Identify who are their major competitors, and how much they have earned in contract revenue, thus helping shape price and value propositions.
Determine what procurement method is preferred for each service and agency, reallocating resources and refining tender strategy to better suit the favoured method.
See when most contracts are awarded in a financial year, and how much the average value is for that contract, allowing ample time to plan executable strategy.
Locate where most contracts are being awarded in Australia, enabling users to lift and shift resources into areas with greater potential for work.
Track how long different agencies and services are demanding contracts span, giving users the ability to budget time and associated costs of work.
Recognise trends in growth of contract value for each agency and service, empowering decisions around service offerings and prices.
Monitor market prices for each agency and service, sliced across numerous fields, informing users of various price pressures and trends.
Using Power BI, FTS Data & AI has transformed a low-quality dataset into a fully-interactive reporting tool capable of providing clear and concise answers to the questions that decision makers are tasked with solving to ensure continued business success.